What Types Of PPC Ads Are There? 8 Types Of PPC Ads
What types of PPC ads are there?
PPC marketing can be highly profitable when a proper strategy is created, and the right PPC features are used. It is essential to be aware of all the types of PPC ads that are available to you, as well as when you should be using them. Once you have this knowledge, you can start to create a PPC marketing strategy that uses the right campaign types to achieve your marketing goals. A good PPC agency will always take time to understand your business goals and then take time to match up your requirements with the types of PPC ads that are available.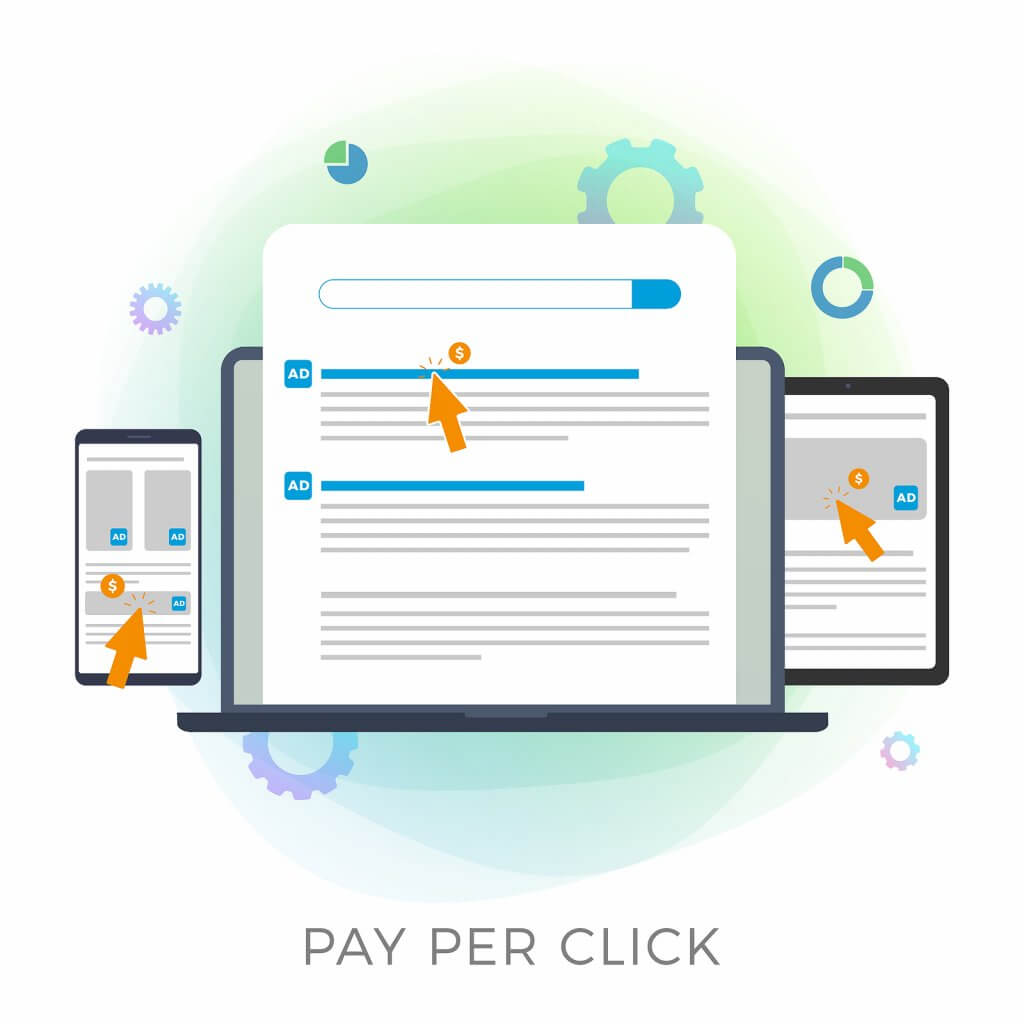 In this blog, I am going to discuss eight of the most common PPC ad types that are available to people wanting to utilise PPC advertising.
1. Search ads
The most common type of PPC ad is a paid search ad. This is the ad type that most advertisers start off using when experimenting with PPC advertising. Advertisers choose keywords that they want their ads to show on. They then tell Google Ads what ad copy they want to show when a user searches for their keyword as well as input the maximum amount that they are willing to pay if their ad is clicked.
PPC search ads use an auction system to decide on which order the advertiser's paid appears on the page and how much they should pay. The auction considers how much the advertiser is bidding on the keyword as well as other quality factors.
PPC Search ads can appear both above and below nonpaid for (organic) listings. You can spot a PPC search ad by looking for an 'Ad' message on the top left of the ad.

Most advertisers using paid search advertising, use Google Ads to advertise their business on Google's search engine. Another option for paid search advertising is to use Microsoft Advertising to advertise on the Bing search engine. The Bing search engine does not have anywhere near the amount of search volume that Google has. In March 2020, Google had a search engine market share of 91.98%, and Bing had a search engine market share of 2.55%. However, Bing generally has lower click prices and can be a helpful supplement to Google Ads traffic.
To run a profitable paid search campaign, it is useful to be aware of the various formulas that PPC managers use in order carry out tasks such as bid optimisations and budget forecasting. To learn more, read our list of twenty-six PPC formulas that every PPC advertiser should know.
Common platforms to create Search ads on:
Google Ads and Microsoft Advertising.
2. Display ads
Display advertising is another form of paid advertising where you advertise your product or service to people while they are browsing the internet. Display advertising differs from PPC search advertising in that with a Search campaign; your ad can potentially appear in front users who are currently searching for your product or service. With Display advertising, the advertiser's ads appear in front of users who have shown an indication that they may be interested in your product or service. Therefore, Display advertising tends to have a lower conversion rate than PPC search advertising. However, Display advertising often has much lower click prices than PPC search advertising.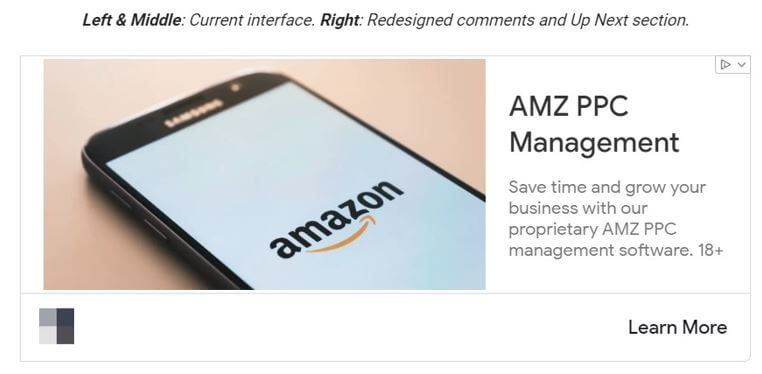 Google claims that it has over 2 million sites on the Google Display Network and that it reaches over 90% of people on the internet. Display advertising is often used to increase awareness of the advertiser's brand. So, if you have a relatively unknown product that you want to build awareness of, then Display advertising could be the option for you.
To carry out Display advertising, a lot of advertisers use the Google Display Network (GDN). This is because a Display ad on the GDN can be easily created straight from the Google Ads interface. However, there are also other advertising platforms that you can use to carry out Display advertising such as Adroll and Criteo.
Common platforms to create Display ads on:
Google Ads, Criteo and Adroll.
3. Remarketing Ads
A remarketing campaign shows ads to people who have visited your site previously. As the user has already shown some form of interest in your business, a remarketing campaign is a very profitable PPC campaign. It is often used to bring customers who were close to converting back into the sales funnel or to upsell or cross more products to your existing customer base. Here are some examples of audience lists that can be created and targeted via a Google Remarketing campaign:
All previous users
Previously purchased from site
Signed up to the newsletter
Watched business's YouTube videos
Cart abandoners
Spent longer than x seconds on site but did not convert
Often a remarketing campaign using Google Ads will involve showing image ads to users while they are browse websites that are part of the Google Display Network. However, you can also use image ads or video ads to remarket to users.

Google Ads is a top-rated advertising platform that is used by Remarketing agencies. However, there are also other options for advertisers wanting to utilise Remarketing. Adroll, Criteo are popular platforms for remarketing. You can also create a Remarketing campaign on paid social platforms like Facebook, Instagram and LinkedIn.
Within Google Ads, there are two types of Display Remarketing campaigns that can be created. These are a standard Remarketing campaign a Dynamic Remarketing campaign. A standard Remarketing campaign is where the user sees generic display ads. A Dynamic Remarketing campaign is where the user sees pictures of the actual products that they viewed when they were on your website.
Common platforms to create Remarketing ads on:
Google Ads, Criteo and Adroll.
4. Video Ads
Video advertising is increasingly becoming an important part of digital marketing. 85% of businesses use video as a part of their marketing efforts, and 92% say it is an integral part of their marketing efforts. It is predicted that by 2022, online videos will make up more than 84% of all consumer traffic.
The benefits of paid video advertising over organic video advertising are that you can get your videos in front of people who are not currently aware of your business or following you. You do not have to do the work to build an audience first.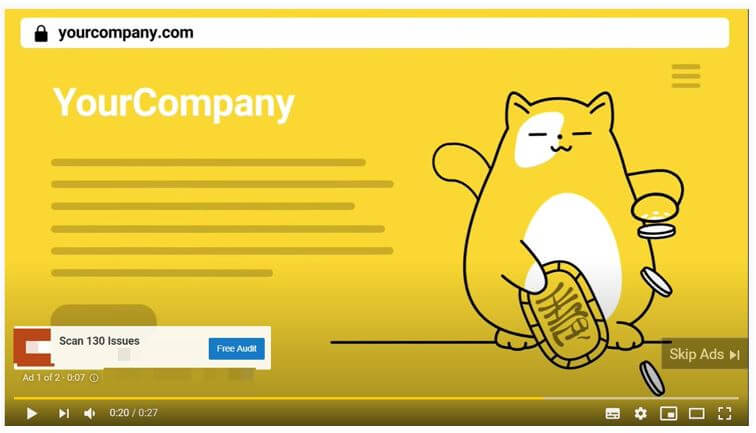 If you're considering video advertising, then YouTube can be an excellent place to start. YouTube has 2 billion monthly active users. Seeing as though a lot of advertisers utilising PPC advertising, are already on Google Ads, it is easy to start advertising on YouTube. This is because you can use Google Ads to show paid video ads on YouTube.
Common platforms to create Video ads on:
Google Ads.
5. Shopping Ads
A Shopping campaign allows ads to show on search engines just like with a Search campaign. However, unlike a Search campaign, Shopping ads contain a picture of the product being sold, the price, title and a description of the product. A Shopping campaign can be created by e-commerce businesses that have products and not services to sell.
A Shopping campaign can be one 0f the most profitable parts of a business's PPC advertising efforts. This is because the user has already seen a picture of the product and the price. They know a lot more about the product before they click and cot you some money. This means that the conversion rate on a Shopping campaign is often higher than a Search campaign.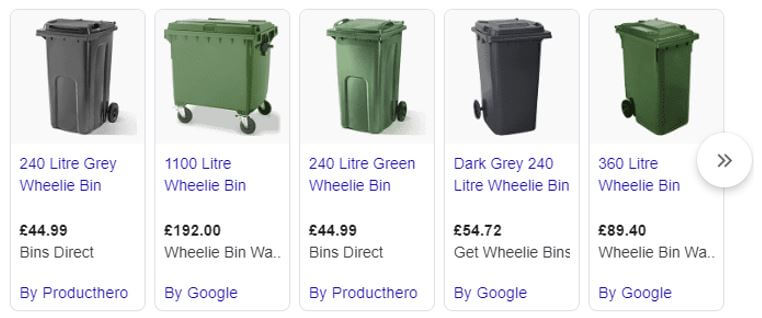 Businesses with a Google Shopping campaign can use a CSS partner to get 20% cheaper click prices. Take a look at our Google CSS page to learn more.
In addition to benefiting from paid Shopping traffic, businesses that have a feed already set up can benefit from free Google Shopping traffic. The free traffic is only available on surfaces across Google. This includes Google Images, the Google Shopping tab, and Google Lens, to name a few. To learn more about the free Google Shopping traffic that businesses can make use of, visit our Google Shopping page.
Common platforms to create Shopping ads on:
Google Ads and Microsoft Advertising.
6. Paid Social ads
Paid social advertising involves showing adverts to people while they are browsing a social media website. Numerous paid social platforms offer PPC advertising services. Some of the more common ones are Facebook, Instagram, Twitter, LinkedIn, Snapchat, Quora, and Tick Tock.
Advertisers looking to do Instagram PPC can easily do this within the Facebook PPC advertising section. This is because Facebook owns Instagram and therefore allows advertisers using Facebook ads to extend their advertising reach by being able to easily add Instagram as an additional placement in their advertising campaign.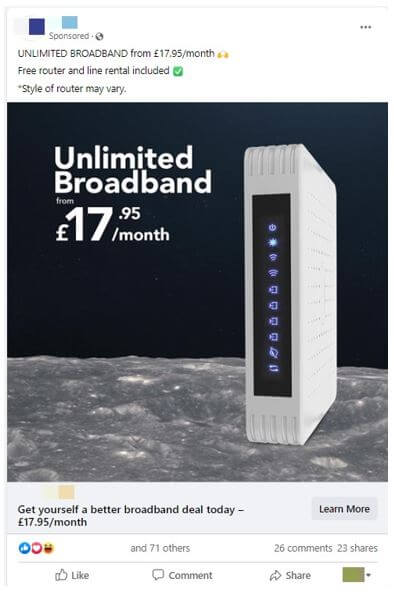 Paid social allows for several types of PPC advertising campaigns to be created. You can opt for a remarketing campaign on a paid social platform or a prospecting campaign on a paid social platform where you target new potential customers. Paid social platforms also offer a variety of different ad types with varying sizes. Many paid social ad platforms will allow you to create both a video ad and an image ad.
Common platforms to create Paid social ads on:
Facebook, Linkedin, Twitter, Quora, Pinterest and Reddit.
7. Gmail Sponsored Ads
Gmail Sponsored ads allow for businesses to advertise on Gmail. They can be created within Google Ads, which means advertisers with a Google Search, Shopping or Display campaign can easily branch out into Gmail Sponsored advertising.
With Gmail Sponsored ads, users see an advertisement that looks a lot like a regular email. Once the user clicks the ad, they are taken to an expanded version of your ad. From here; they have an option to click through to your site.

Gmail ads can be an excellent way to increase brand awareness and get the extra top-of-the-funnel traffic. There are three Gmail specific metrics that you can add to your Google Ads campaign data to get an idea on how well your Gmail campaigns are performing:
Gmail saves – This metric shows the number of users who saved your message for later
Gmail forwards – One of the benefits of a Gmail campaign is that the user can choose to forward your email to someone else who may be interested in it. The Gmail forwards column will tell you how many times your ad was forwarded to someone else.
Gmail clicks to the website – With a Gmail campaign, the first time that an advertiser clicks on your ad, it will be expanded to show the user more information. This will register as a click, and it is when you will be charged. If the user clicks on the ad again, then they will be taken to your website. The Gmail clicks to website column shows you how many people expanded your ad and then clicked through to your website
Common platforms to create Gmail Sponsored ads on:
Google Ads.
8. Amazon Advertising
Amazon has a considerable amount of volume, with 206 million people visiting Amazon every day. Amazon has a vast product range and sells over 12 million products online. In 2016, more shoppers were starting their online shopping journey on Amazon than Google. These stats mean that e-commerce businesses should not overlook Amazon advertising.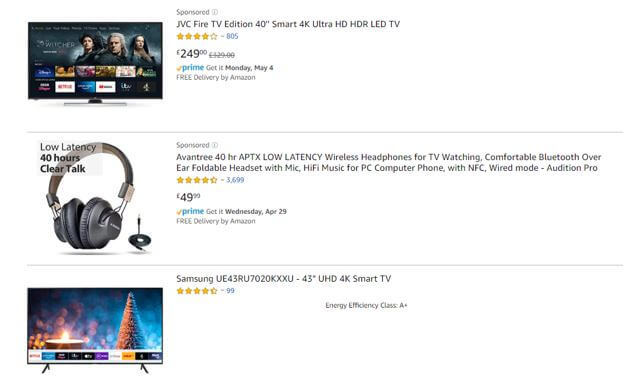 If you have a business selling on Amazon, then with so many businesses on Amazon, it can be challenging to get your products to appear in front of your customers. Therefore, Amazon offers paid Amazon Advertising where businesses can use a pay per click model to get their products in front of people who are searching for your products.
There are generally three types of campaign types on Amazon's advertising platform.
Sponsored Product Ads – Show an ad on within the search results. Your ad will be shown when one of your keywords has been searched for.
Headline Search Ads – Show an ad on the top of the page. Your ad will be shown when one of your keywords has been searched for.
Product Display Ads – Show pictures of your actual products just like with a Shopping campaign.
We have seen good results with Amazon Advertising. However, if you are doing paid advertising to your Amazon page as well as to your website, then make sure you look at total sales as well. This is because there is a danger of Amazon Advertising taking sales from your website.
Common platforms to create Amazon ads on:
Amazon Advertising.
Wrapping up
There are many PPC advertising platforms and ad types available. In this blog, I have spoken about eight of the leading PPC ad types that most advertisers use. Most advertisers who start with PPC advertising begin with a search campaign on Google Ads. This is often a good starting point for a lot of PPC advertisers. However, there are so many more options available to you. It is crucial to test new ad types and find the PPC advertising strategy that is right for your business. Now that you know more about the various ad types, for a more detailed guide on what is required to manage a Google Ads account, have read of our blog on PPC management.
We're experts at running all of the above PPC ads – for a free PPC strategy discussion, get in touch below: