What to look for when doing a PPC competitor analysis
As a PPC consultant, I often have to do a PPC or paid search competitor analysis to get an idea of what my client's PPC competitors are doing. Having an amazing PPC advertising account and a landing page set to compliment your PPC advertising efforts can take you a long way.
Optimising your PPC account is an essential part of PPC management, but looking at what your competitors are doing can help bring more ideas to the table and further grow your PPC profits. Your competitors may have thought of something that you haven't. Additionally, if you've seen an unexpected drop in performance and can't seem to figure out why, then it may not have anything to do with what you've done on the PPC account. It may be because a competitor has changed something on their side that is doing very well. Being on top of your PPC competitor's advertising activity can help you to diagnose any fluctuations in performance.
How do you identify your PPC competitors?
Before you can start to monitor and analyse your PPC competitors, you first need to know who your PPC competitors are. Often, business owners will want to monitor their offline competitors or will have some competitors in mind who they would like to be as successful as one day. But these are not necessarily your main competitors on PPC.
It is important to identify who your PPC competitors are, as these are the businesses that your PPC ads are competing against. If you see a fluctuation in PPC performance due to competitor activity, then it is likely to be due to one of the competitors that advertise on PPC. These will target the same kinds of keywords as you, opposed to your main offline competitor who isn't currently doing any PPC advertising.
To find your main PPC competitors, you could just search for some of your main PPC keywords and see which competitors pop up on the top results. Another way is to use the auction insights report on Google Ads. To look at the Auction Insights report, click on "Campaign" on the left-hand menu, and then on "Auction Insights".
The auction insights report can give you an idea of who is bidding on your keywords the most and how aggressive they are compared to you. There's a lot that you can do with the Auction Insights report, but if you just want to find your main PPC competitors, then you could look at which competitors have the highest impression share. This will show which competitor appears the most on the keywords that you bid on.

Once you've identified your main PPC competitors, you're ready to start doing a PPC competitor analysis. Here are seven things to look at when carrying out your competitor analysis.
landing page USPs
Look at the USPs that are being used on your competitor's site. If you're running PPC activity to generate leads, then most people will use one main USP. Identify the main USP that they're using as well as their secondary USPs. This will give you an idea on what USP your competitor thinks resonates the best with their customers.
Once you have this information, you can start thinking about whether you want to try copying their USP or coming up with something that is better than their USP. For example, if your competitor is offering 10% for a limited time only, can you offer 15% off? Sometimes you can't or shouldn't compete on price. In this case, you may want to think about what else you can offer your client, instead of trying to be the cheapest on the market.
It also a good idea to look at the way that offers are being used. For example, offering a discount code to all customers is very different to offering a discount code for anyone who signs up to the newsletter. When a user signs up to a newsletter, they give up their email address. Your competitor can then use this information in their email marketing campaigns.
In addition to looking at USPs that your competitors are using, think about the USPs that you're competitors are not using. It may be that these USPs don't perform well. It could also be because they haven't thought of those USPs or can't offer them. Are they not pushing their 0% finance message enough as they could be? You can then think about whether your business can offer these USPs and mention them on your landing page.
Landing page features
There may be some landing page tools that your competitors are using to improve their conversion rate. These can be copied once you've identified them.
Popups – a popup that appears when the user has spent a certain amount of time on the page or when they are about to exit the page. These can include discount codes, a newsletter subscription message, or just a final attempt message to stop the user from clicking away.
Chatbots – Chatbots can help to improve conversion rates in some industries. There are several free and paid chatbots available. If you're just getting started, then you may consider installing the free Facebook chat option.
Call back request – Are they offering customers the ability to get a call back so that their sales people can then try to close the sale?
Downloads requiring email address – Does your competitors offer educational content that the user needs to give up their email address in order to obtain? This can be a good way to obtain email addresses for use on email marketing campaigns. They can also be tracked as an event conversion. You can then start adding these people into a funnel and advertising differently to them.
Choice of imagery – Have a look at the imagery that your competitors are using to get an idea of how they want the customer to feel when they visit the site. The choice of imagery will give you an idea of the market that your competitors are trying to target. If you've been seeing poor conversion rates, then you may want to take inspiration from your competitor's imagery.
Video in landing page – Videos can help to improve conversion rates – especially when there is a call to action button close by.
Offers – You may be seeing a poor conversion rate because you competitor has a very good sale or offer running.
Social media icons – Social media icons can help to increase trust in the business. If your competitor has social media icons on their age and you don't, then it may be time to get them on there. Also look at the actual social media icons that your competitor is displaying on their page. It may be that they are utilising a social media platform that you aren't.
Trust signals – Have a look at what trust signals your competitors have on their site. It's common for businesses to display images of the payment options that they support or show that they payment method is secure.
Accreditations and certificates – Adding certificates or awards that you have recently won can help to make your business look more professional and reputable. If your competitor has an accreditation or certification that you don't, then it may be worthwhile looking into whether you can obtain that accreditation or certification as well.
Landing page content
Good content on the page is vital for having a good conversion rate. The content on your page is one of the factors that tells your customer what you're about and why they should buy from you.
Look at the type of messaging that your competitor is using on their page. It may give you some ideas on content that you should add to your own pages. Additionally, if you know what kind of messaging your competitors are using, then you can think about tailoring your content to show how you're better than your competitors. Some things to look at include:
Questions being answered – An FAQ section can be a good way to answer any questions that the customer may have in a concise way. Look to see if they provide an FAQ section and what questions are being answered. Your competitors may have done the research and identified some common questions that their customers want answers to.
Objections being answered – Look at any objections that your competitors are responding to on their page. This will tell you what barriers your competitors think they have.
Explanation of product/service – How does your competitor explain their products, the benefits, and features. Have a look to see how their content is laid out. Ask yourself if their explanation is more convincing than yours.
Keywords being used – Adding keywords and keyword themes that you're bidding on can result in a higher landing page experience, which would improve your Quality Scores. By improving your Quality Scores, your average click prices will come down. Keep an eye on possible keywords while looking at your competitor's landing page. This may give you an idea on the type of keywords that your competitors are bidding and what they think are important keywords.
Page speed
Internet users have become so used to being able to get information instantly that if a website is slow, there is a high chance that the user will click away. Speeding up your page's loading time will result in a lower bounce rate as you should get fewer people clicking away from your site.
Have a look at how fast your competitor's site loads and compare it to your own site. If it is a lot faster than your site, then you should be taking learnings from your competitor's site to improve your site speed.
A basic starting point is to use Google's PageSpeed insights tool. This tool from Google will give your website a score from zero to one hundred showing how well optimised it is on mobile and desktop. It will also give you some suggestions on how you can improve your site speed as well as improve the user experience on mobile.
Price
Sometimes you can do everything right, but you still lose out to your competitors because they're cheaper than you. While the price of your product or service doesn't have to be the main factor that you look at, it is more important in some niches than others.  Knowing where you stand on price compared to your competitors is a good starting point to coming up with a strategy for what you should focus on.
For example, if a competitor is a lot more expensive than you, then you know that you need to focus on communicating what extra the customer will get from you that they won't get your competitor. I've worked on client accounts where they removed the price of their service from the landing page.
They found that they were able to convert more people by removing the price from the landing page and then explaining why they were more expensive than the customer over the phone after the customer had enquired.
On the other hand, if you find that you're cheaper than your competitors, then it is a good idea to shout about this on your landing page and ad copy. If you're a lot cheaper than your competitors, then it may be worthwhile testing increasing your prices. You may see a slight reduction in conversion rates, but your overall revenue may be higher.
PPC ad copy
Your competitor's ad copy is what your own PPC ads are directly going up against on Google's search engine. So, it's worthwhile knowing what your competitors are doing with their ads. If you see a sudden reduction in the clickthrough rate of your ads, then it may be because your competitor is testing a new message that is performing very well for them.
Find keywords in your account that have a "Below Average" Expected Clickthrough Rate. Google thinks that your competitors' ads are more likely to win the click on these keywords. In which case, it is a good idea to see what your competitor's ads say for these keywords.
One way to see what messages your competitor is pushing on their PPC ads is to search for some of your keywords and then find your competitor's ad. A good tip is to search for a keyword a few times. This is because if your competitor is split testing ad copy, then you have a higher chance of being served a different ad the second time around.
Another approach is to use a competitor analysis tool. Many competitor analysis tools allow you to see what ads your competitors are running. The benefit of this approach is that you get to see a number of different ad variations that you're competitors are quickly and easily Here is an example from ahrefs: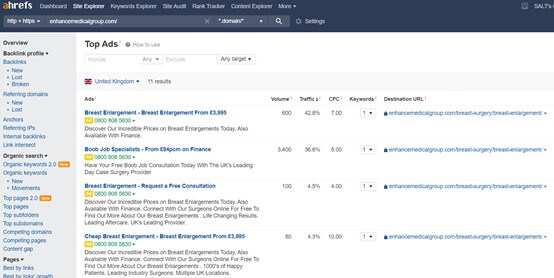 When looking at your competitor's ad copy, look to see if they're using dynamic keyword insertion. One way to identify this is if certain parts of their ad always looks like a keyword that someone would search for, then there is a positbility that they are using dynamic keyword insertion.
Keywords
Looking at you competitor's ad copy is a good starting to learn what they're doing with their PPC advertising. But what if they're bidding on keywords or a keyword theme that you haven't thought about? Finding relevant keywords or keyword themes that your competitors are bidding on, but you haven't thought about can be a good way to expand your PPC account.
To do this, you'll need a competitor analysis tool like ahrefs, or Spyfu to name a few. After inputting your competitor's website into the competitor analysis tool, you will be able to see all the keywords that the tool thinks that your competitor is bidding on. Most competitor analysis tools will also give you an idea on how much traffic your competitor is getting from each keyword, how much they're bidding, and the landing page that they're using.
Once you have competitor's keywords, compare them with your own to see if there are any keywords or keyword themes that you may not have thought about.
Wrapping up
Carrying out a competitor analysis every few months is a good way to stay on top of your competitor's activity and possibly uncover new strategies to test out. The seven tips outlined in this blog are a good place to start when it come to doing a Google Ads PPC competitor analysis for your search campaigns.
---
Why not let an expert PPC agency help you to beat your competition? Get in touch today: