What To Look For When Choosing A PPC Agency
When done right, PPC advertising can prove to be very profitable. When done poorly, PPC becomes a money pit with no benefits to the business.
If you turn to Google support for advice, then what they're going to tell you is something that will definitely be good for them but may not necessarily be good for you. This is because it is in Google's interest for you to keep spending and increasing that spend.
It can therefore be worthwhile paying for the services of a PPC marketing agency to manage your PPC account on your behalf. Aside from benefiting from the expertise of the PPC company, you also free up your time so you are able to spend it on other areas of your business.
However, there has been a slurry of PPC marketing agencies popping up lately and sadly, not all of these have the ability to produce positive results. Some will end up taking your money and blowing it on PPC advertising with very little return.
It is therefore important that you have a process in place that you use to find PPC agencies and have some questions ready to ask when you speak to each PPC marketing agency.
Make a list of PPC agencies
Never just sign up with the first PPC agency that you find. The first agency that you speak to may impress you and they may even end up being the right agency for you. However, it is worthwhile speaking to a few PPC agencies first to get an idea on the kind of value propositions that are out there and the various pricing structures.
First things first, you need to compile a list of PPC agencies that pique your interest. There are a few ways that you can go about doing this and below I'll walk you through some of the things that I would recommend you look out for.
Here are four methods that you could use to start building a list of PPC agencies to contact.
Method 1: Search on Google
Go to Google and start searching for terms around PPC agencies. As we'll come onto later, one of the things that you want to be looking for is the location of the agency.
Make sure that you include the ideal location (where you want your agency to be based) in your search.
For example, if you're based in Leeds, then it would be practical to find a PPC agency that is also based in Leeds or the surrounding area.
Here are some examples of what you could search for to find PPC agencies in the Leeds area:
PPC management company Leeds
PPC management services Leeds
PPC marketing agency Leeds
Paid search agency Leeds
Google Ads agency Leeds
PPC services Leeds
PPC company Leeds
If you're looking for a PPC advertising agency in Yorkshire, then here are some examples of searches that have some volume:
PPC management company Yorkshire
PPC management services Yorkshire
PPC Yorkshire
PPC management Yorkshire
PPC marketing agency Yorkshire
Paid search agency Yorkshire
Google Ads agency Yorkshire
Google Ads Yorkshire
PPC services Yorkshire
PPC company Yorkshire
If you don't mind where you PPC agency is based as long as it is based within the UK, then there are a number of searches that you could search for on Google. Here are some searches that have are popular for people looking for a PPC agency within the UK:
ppc agency UK
ppc management UK
best ppc agency UK
ppc UK
UK ppc agency
Google Ads management UK
ppc management agency UK
ppc advertising UK
ppc UK agency
ppc specialists UK
ppc management services UK
Alternatively, Google does use your IP address to surface PPC companies closer to you towards to the top of the results. Here are some examples of things that you could search for
ppc marketing companies
top ppc agencies
ppc agency near me
performance-based ppc agency near me
top ppc agency
ppc marketing agency near me
ppc company near me
ppc advertising agency near me
google ads advertising agency near me
ppc companies near me
Method 2: Attend digital marketing events
Aside from it being beneficial to learn about digital marketing in general, marketing events can be a good way to find impressive agencies to contact.
Digital marketing agencies will often speak at digital marketing events to showcase their work and knowledge. Attend these marketing events and pay attention to the agencies that are speaking. Make sure to note down the name of the speaker and the agency they represent.
Look for agencies that are talking about something new or showcasing how their way of doing things is different or better than others.
There will be some agencies whose representatives talk about the basics of PPC which, while useful, probably doesn't do much to showcase how they are better than other PPC agencies.
Method 3: Podcasts
In a similar vein to attending digital marketing events, take a look at which agencies have employees that are confident enough to share their knowledge via podcasts. Have a listen and, if they impress you, you can contact the agency that they work for regarding PPC services.
Method 4: Word of mouth
Word of mouth is still a very powerful way to get high quality referrals. If you know any other businesses, then ask them if they have used a PPC agency and what their experience was like.
Even if they haven't specifically used a PPC agency, have they heard good things about one? They may also have heard some bad things about certain agencies which means you'll know which PPC agencies to avoid.
Of course, you should only ask people who you think will give you genuine advice, and it goes without saying that people within the same niche as yours probably aren't going to want to do that.
Once you've made a list of PPC agencies that have piqued your interest, it's time to vet them further. This is where you dig much deeper into the agency and learn what makes it different from the rest.
Here are eight factors to consider when you reach this stage.
Consideration 1: Location
The location of the PPC management company is important. If you're based in Leeds, then you need to be looking for a PPC agency in Leeds rather than London, for example.
You're going to want to meet with your PPC agency regularly to discuss the performance of your PPC account, strategy and how to take your business to the next level. You can have regular calls and video conferences, but they can't replace the productivity and reassurance that you get from a face-to-face meeting.
Consideration 2: Are they Qualified?
Check if the PPC agency you are looking at is a Google Partner. Google Partner agencies have passed certain basic quality criteria. This should give you a little more confidence of the agency's capabilities.

Ask the agency if the team members who would be managing your account have all the relevant qualifications. As a minimum, they should be Google Ads, Google Analytics and Microsoft Advertising qualified.
At Pepper PPC agency in Leeds, we ensure that all our team members are Google Ads, Google Analytics and Microsoft Advertising certified.
Consideration 3: Are they proud to showcase their previous work?
Take a look at their website and look for previous case studies. We have ours here. If a PPC agency doesn't have any case studies to showcase, then there really isn't much evidence that they are going to produce good results for you.
Case studies of previous work are a very strong indicator that the PPC agency knows what they are talking about. Make sure you have read their case studies and prepare some questions to ask the PPC agency when you meet them for the first time.
You should be quizzing them on their case studies to determine what they did and whether they would be able to provide the same kind of results for you as well.
Consideration 4: Do they offer a free PPC audit?
A free PPC audit is an indicator that the agency is willing to work a little to win your business. It also allows you to have a much more personal discussion when you meet up with the agency. This is because the discussion can be focused on what has happened in your PPC account and how the agency can help you. This is much more fruitful than having a general discussion on how the PPC agency helped other clients.
The PPC audit will also give you an idea on the level of expertise of the agency. If they don't impress, then you should look elsewhere.
Consideration 5: Who will own the PPC advertising account?
Although this isn't as common anymore, there are still some agencies who want to own the data accrued while running PPC marketing on a client's behalf.
While this doesn't sound like it would be too much of a problem, the click and performance data accrued is an invaluable source for your business. If you decide to move on from that PPC agency, then you should always be able to take this data with you.
If the PPC agency owns the data, then they will keep it and you will no longer be able to benefit from it.
Make sure you ask the agency who would own the PPC account and data before you sign up.
Consideration 6: Ask about reporting
Receiving a report explaining the performance of your PPC account that is genuinely useful and actionable is very important. You need to be able to break down the performance of your account to see what worked and what didn't. This will keep you informed, enabling you to make confident decisions on what to do next.
Ask the PPC agency how often they intend to send over a report and request to see an example of one.
While a good agency will create a tailor-made report for you when you first sign up, they should also be able to show you a rough template version of the report that you would receive if you were to sign up.
At an absolute minimum, the agency should be reporting to you on a monthly basis — but a weekly report would be much better. Some agencies go as far as to report on a daily basis. If this something that you feel you need, then you should be asking about this.
However, bear in mind that an agency that offers a daily report possibly won't be adding in many insights. You also need to ask yourself how much optimisation work an agency is doing for you if they are spending their time sending over performance reports on a daily basis.
Ask if the agency has automated methods like an API to generate the report or if they create the report in a spreadsheet like Microsoft Excel instead. This is because the time taken to generate your report will come off your account total.
Therefore, if the agency has automated procedures to generate your reports, then they have more time left to spend optimising your PPC account and (hopefully) increasing your sales.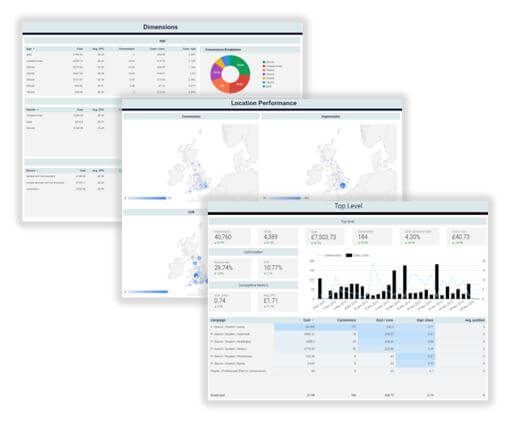 Consideration 7: Ask about their pricing structure
The price of each agency's services are definitely worth looking at and comparing with your budget.
If you are a small business with a small advertising budget, then you may have to go with a smaller agency. A smaller agency will most likely have a more modest pricing structure but be careful because they may not have the expertise or the procedures in place to effectively manage your PPC account.
Perhaps a more important consideration is looking at how the agency bills for their work. There are generally three pricing structures in PPC account management.
Day rate – This is perhaps one of the simplest and most transparent pricing structures. It is also the pricing structure that we prefer at Pepper PPC Agency. With this pricing structure, you purchase a set number of days that the PPC agency will work on your account.
An agency that is utilising this pricing structure should advise you on the number of days they would require in order to manage your PPC account successfully. They should also be able to produce a breakdown of the work that is completed each month.
Percentage of ad spend – Another common pricing structure is to bill a percentage of the amount of money that you put into your PPC advertising campaigns.
For example, if you spend £50,000 a month on PPC advertising and your PPC agency charges you 10% of advertising spend, then their monthly fee would be £5,000.
This way, if your advertising spend increases or decreases, then the PPC agency's fees will change accordingly as well.
An agency that utilises this pricing structure normally has a minimum fee threshold so make sure you ask about this.
Percentage of revenue produced – A third and less common pricing structure is to bill towards the amount of revenue generated. The more revenue that is generated via PPC advertising at a previously agreed ROI or cost per conversion, the more the PPC agency will charge.
Agencies using this fee structure always have a minimum advertising spend and will only accept certain clients to ensure that it is profitable for them.
Consideration 8: Do they have positive reviews?
Lastly, do your research to see what people have said about the PPC agency online. Do they have any positive reviews on Google or sites like Clutch?
An agency that produces positive results will want to shout about them. If you can't find any positive reviews about the agency, then perhaps they don't have anything to shout about?
Wrapping up
There are so many PPC marketing agencies out there offering PPC services and all of them claim to be the 'best'.
The key to finding the best one for you is to be prepared with a bunch of questions that will weed out the good agencies from the rest.
Once you've done this, then understand that there may be an agency that is right for your business but not right for another business.
Some agencies may be very good with lead generation accounts whereas others may be better at ecommerce accounts. Some agencies may have a very strong reputation with Google Ads but very little experience with paid social.
It is therefore worthwhile having a think about what you need from your PPC marketing agency and then matching that with the agencies that have caught your attention.