How To Use The Search Terms Report?
What is a search term?
Before we tackle search term reports and how they can be used to optimise your PPC strategy, let's clear the misconception around search terms and keywords.
Commonly mistaken for a keyword, a search query is what a user enters in a search engine to find relevant results.
It is a word, or a string of words, that can contain an already identified keyword, a misspelling of it, or additional words.
A keyword is a singular word or a word combination that PPC specialists target in paid ads and bid on.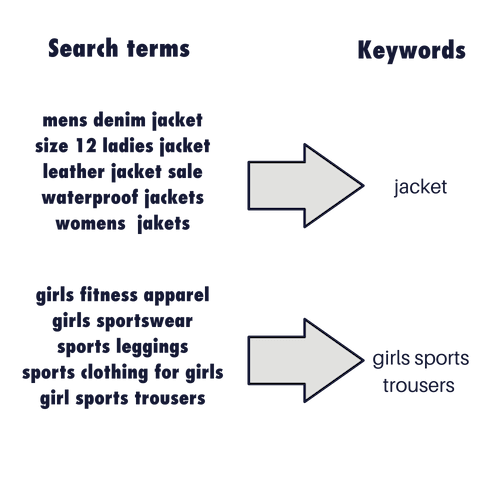 What does the search terms report consist of?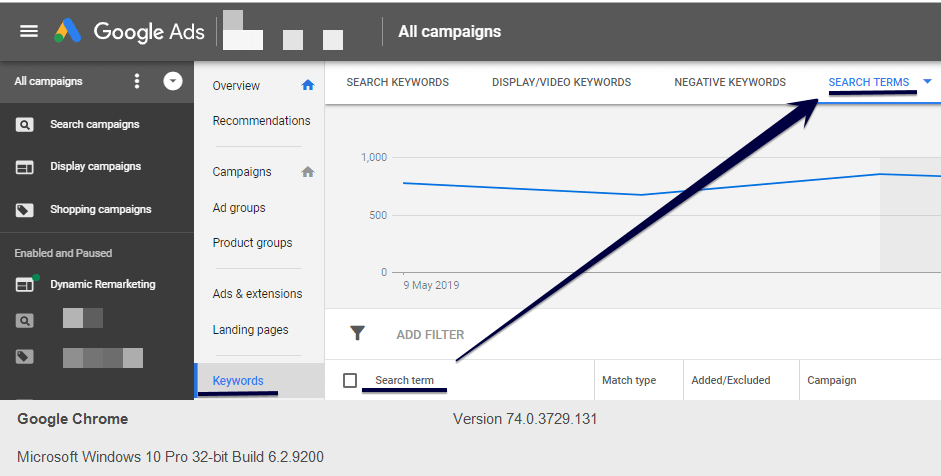 Google Ads search terms report location
After logging into your Google Ads account, you will find the Search Terms section located under Keywords tab.
The report's purpose is to identify search terms with high impressions and conversions so that we can place them with a more targeted match type.
Alternatively, you can identify irrelevant search terms for negative keyword mining and learn more about your audience's search intent.
If you are using Microsoft Advertising (formerly Bing Ads), the search terms report is very similar and can be found by clicking on the Reports tab and selecting Search Terms under Performance in the Report type menu.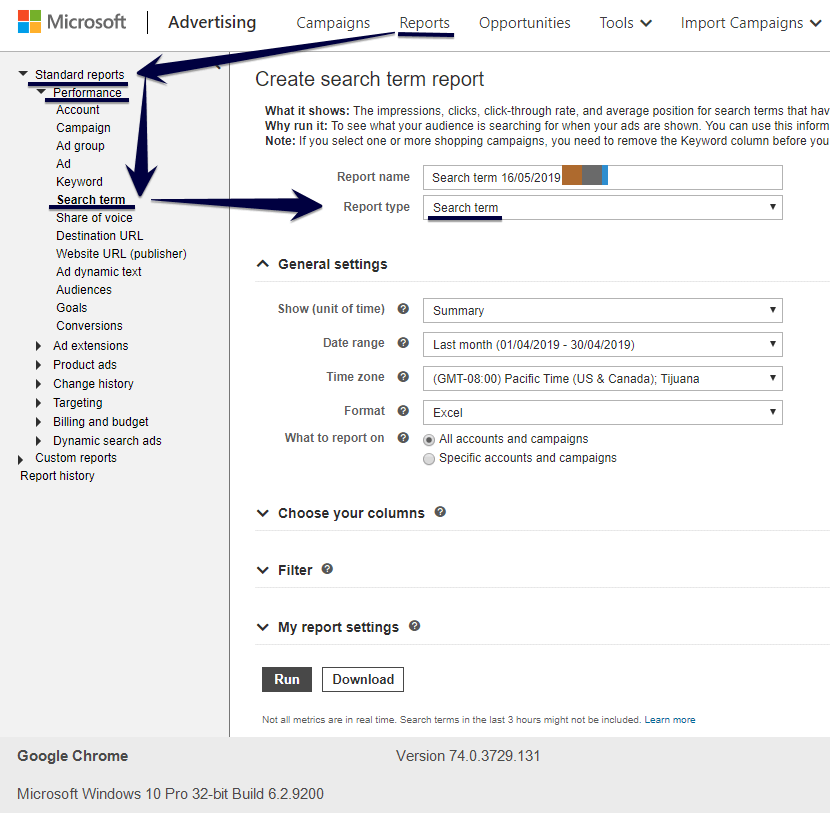 Microsoft Advertising search terms report location
What information can you extract?
The Search terms report has several columns providing insights about search term performance.
Match type column indicates the degree of closeness of the search term to the keywords in your account.
To illustrate, if a user searches for picnic baskets, your exact match keyword "picnic baskets" will trigger the ad. To learn all about different match types, read our blog "Why are keyword matchtypes important".
Added/excluded column shows if the search term has already been added as a keyword to your ad group or excluded from it.
Impressions column displays the number of times your ad has been displayed on the search engine results pages (SERPs) for the specific search term.
Interactions columns show the number of click on the ad, and Interaction Rate measures how often people click on the ad after entering a specific search term.
This can help evaluate the effectiveness of the ad. Average Cost means the price per interaction the advertiser pays.
Conversions column shows how many conversions resulted from the received ad interactions.
Cost / conv. assesses the average cost of a conversion.
To get more out of your reports, download it and export the data into an Excel spreadsheet. Utilising Excel features like filters and tables can lead to precious information.
Excel tips and tricks for resultative data manipulation
There are several tools you can use to sift through and extract useful information from the endless rows of data:
Filters: Once your data is converted to a table, you can sort and filter it, for example, to see only converting search terms, or to sort search terms from highest impressions to lowest.
By solely using filters and sorting, you can clear the data and retrieve valuable information. Click on the arrow next to the column you want to filter by and select your filters.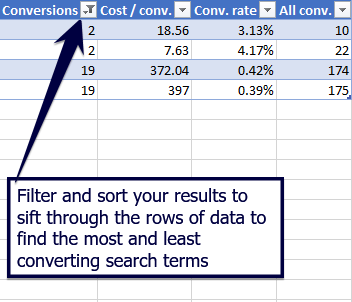 Search term report data sorting and filtering in Excel
Pivot Tables: If you have a specific area of your accounts that you would like to work on, for example, to expand opportunities or reduce costs, Pivot Tables allow you to segment this data.
For example, to filter results by matchtypes. Click Pivot Table under Insert tab and select the table range you want to work within the existing worksheet or an external data source.
Search terms report Pivot Table creating
Once the range has been selected, drag different elements into the Filters, Columns, Values, and Rows areas to create a Pivot Table.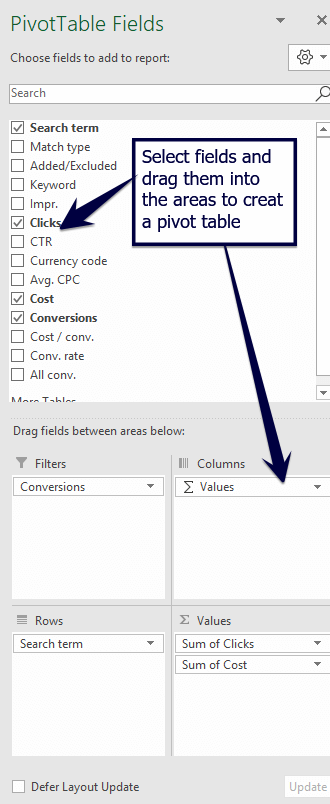 Search terms report Pivot Table creating
We have put together a few examples of some of the things you should look for in a search query report, however, it is important to note that this is not an exhaustive list and there are many more things you can do with search terms reports.
Look for high impression terms coming from non-exact match keywords (broad match, broad match modified, and phrase match) — split them out to create their own ad copy. For example, if your broad match keyword is country clothing, separate large country clothing as an exact match keyword if the search term large country clothing is receiving a lot of impressions.
Following the same idea for high impression terms, identify high converting terms coming from non-exact match keywords — split them out and create their own ads and bids.
Block out irrelevant traffic coming through non exact match keywords — eliminate the whole search term or a single word as phrase match. To illustrate, if you are advertising designer clothing products, traffic coming through search terms containing cheap or second hand will be irrelevant. You then can add second hand as a negative phrase match.
Exact match allows close variations of the keyword, such as misspellings and plural forms. Close match variants coming from an exact match keyword that is irrelevant can be blocked out. For example, if you are advertising shirts, add sweatshirts as negative phrase match to stop traffic coming through this keyword.
If your search terms report contains a long tail search term that would be better suited for a different landing page, then split out the keyword, create a tailored ad and send that traffic to a different landing page.
Adjust your bids by being more aggressive on the good traffic keywords and leave bids as they are or lower them for non-exact match keywords.
For example, if you spot that size large red mens jumpers is coming through broad match modified keyword +red +mens +jumpers and bringing in volumes of relevant traffic, firstly add this to your keyword list.
Secondly, you can increase the bid on size large red mens jumpers and lower or leave intact the bid on +red +mens +jumpers to be more cost-efficient.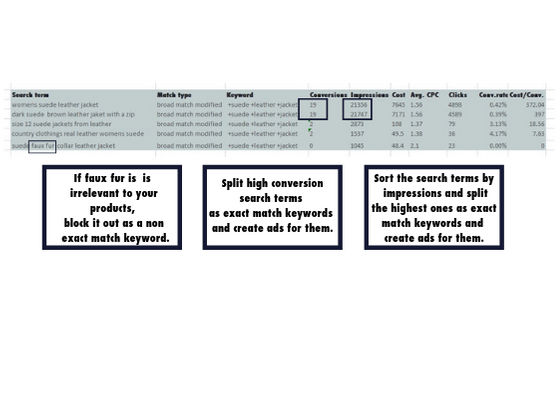 Example of keyword matchtype splitting
N.B.! — The above examples are fictive and serve to illustrate the principle, we are not suggesting using these keywords.
We should appreciate search terms reports as they show exactly what people were looking for, the intent of the search, and the most common search queries that lead to clicking on your ad.
By identifying negative keywords, you can significantly cut your Google Ads spending and identify new search terms to add in as keywords.
The search terms insights will also help you understand your audience better, so adjust your bids depending on their performance, and to expand your campaigns with new keywords.