How to track Facebook offline conversions
As PPC advertisers using Facebook's advertising platform, we have many metrics that we can track to measure our campaigns' performance.
We can track button clicks, scroll depth, time spent on a page, and form completion, to name a few. There are a total of seventeen standard events that can be tracked as conversions on Facebook.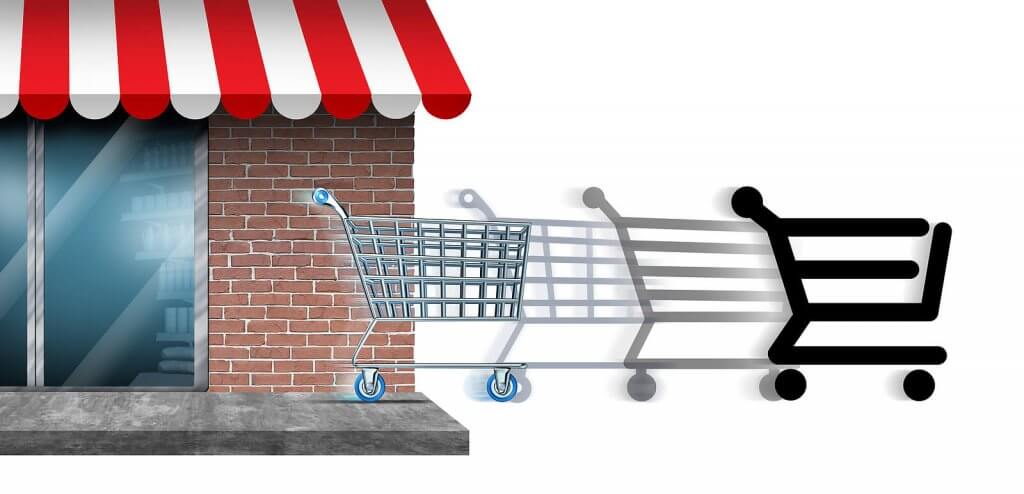 Despite being able to track so many touchpoints, only looking at online conversions doesn't give the full picture. User research journeys are becoming much more complex.
We've gotten quite good at tracking online touchpoints that result in a sale or lead. However, there is a lot of offline activity that can influence a sale.
Being able to track offline activity can be very important for businesses. Especially the ones that have brick-and-mortar stores. In-store sales can have a large impact on a business's revenue.
Unlike in the past, these sales may have been influenced by online marketing activities. If your online reporting is not tracking offline store visits, you can't see which campaigns influence offline store visits.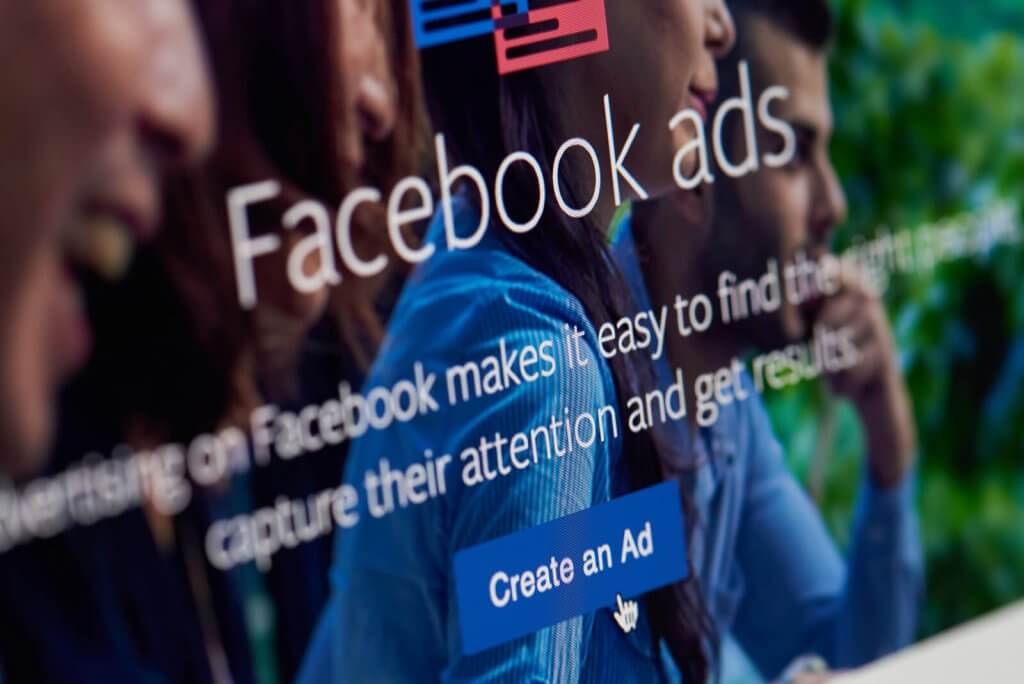 You risk pausing a campaign thinking it is not profitable and then seeing a knock-on effect where your store visits plummet.
Some things can't be tracked by a conversion pixel. Such as people who advertise coupon codes online that are to be used in stores when a product is purchased.
Why should you track offline conversions?
There are several reasons why you may want to implement a method to track offline conversions. These will differ depending on what you're trying to achieve with your Facebook advertising efforts and also the niche that you're in. In general, there are three reasons why you would want to track offline conversions:
Benefit one: Measure the effectiveness of Facebook advertising campaigns
To optimise a campaign, you need to have statistically significant data, and you need to be able to see which areas are achieving your conversion goals.
Once you can see which areas are achieving your conversion goals, you can start to cut out poor-performing areas and maximise the traffic you're getting from better-performing areas.
Being able to track offline conversions allows you to optimise your campaigns to get more offline conversions in addition to getting more online conversions.
Consider the below example where we're running Instagram and Facebook advertising. The figures are made up to illustrate a point.
We may have one platform that appears to perform better online, but when we look at offline performance, maybe the other platform is still worth keeping. Just looking at online figures alone will only get your advertising efforts so far.

Reason two: Give Facebook more data to optimise your campaigns
If you're using an automated bidding option on Facebook, then the machine learning algorithms love data. The more data they have, the better they can perform. By adding offline conversions, you give Facebook's algorithms another touchpoint to look at. This means they should be able to get better performance from your advertising campaigns.
Reason three: Improve reporting
Offline conversion tracking adds an additional layer to your reporting. In addition to allowing you to report on the standard metrics like your clickthrough rate, conversion rate, and online sales, you can also report on the number of store visits that you're getting.
Having store visits in your Facebook advertising campaign reporting means you can see which campaigns bring in-store visits and which ones don't.
If your reporting contains week-on-week data, then you'll be able to see how changes in your marketing efforts affected your offline store and not just your online metrics.
The typical match rate that you should expect depends on the quality of the data that you're uploading. Facebook generally does do a good job at matching up data to its users.
It's not unusual for you to get a 100% match rate if the quality of your data is good and it is up to date.
How to use the Facebook offline conversions tool
To get started with offline conversions, you will first need to create an offline event set. You can do this in Events Manager. Offline event sets match offline activity with the online metrics of your Facebook ads.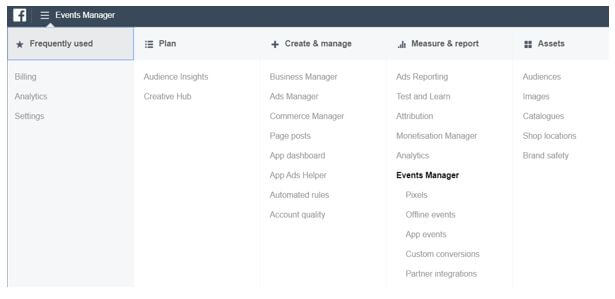 Once you've created the data set, you need to upload your offline data into Facebook. You have two options to do this. Firstly, you can connect to it with your CRM system. The second option is to upload a spreadsheet with your data manually.
The process is similar to uploading a customer list to Facebook. It is recommended that you upload your data two times a week to keep the information fresh and up to date.
Here are some best practices when it comes to uploading your offline data.
Upload your data regularly – ideally twice a week but at least once every two weeks.
Format properly – this is very important for Facebook to understand and make use of your data. Having well-formatted data will improve your match rate.
Upload as much information as possible – the more information you upload, the better chance there is of Facebook being able to match up your data with its users.
Integrate with your CRM if possible – a few examples of CRM integrations are Marketo, Squarespace, Salesforce Sales Cloud, and Segment. If you are using a system that doesn't natively have a conversion syncing option, then take a look at Zapier.
Ensure all data is correct – Once the data has been uploaded, it cannot be removed or updated. Double-check your data before uploading to make sure that it is correct and doesn't include any errors.
To upload your offline data, select the appropriate offline event in Events Manager and select upload events. Here you will be able to upload your offline conversion data.
You can check if your data has been correctly formatted by clicking on 'View Examples'. This will give you an example of the types of data that you can upload.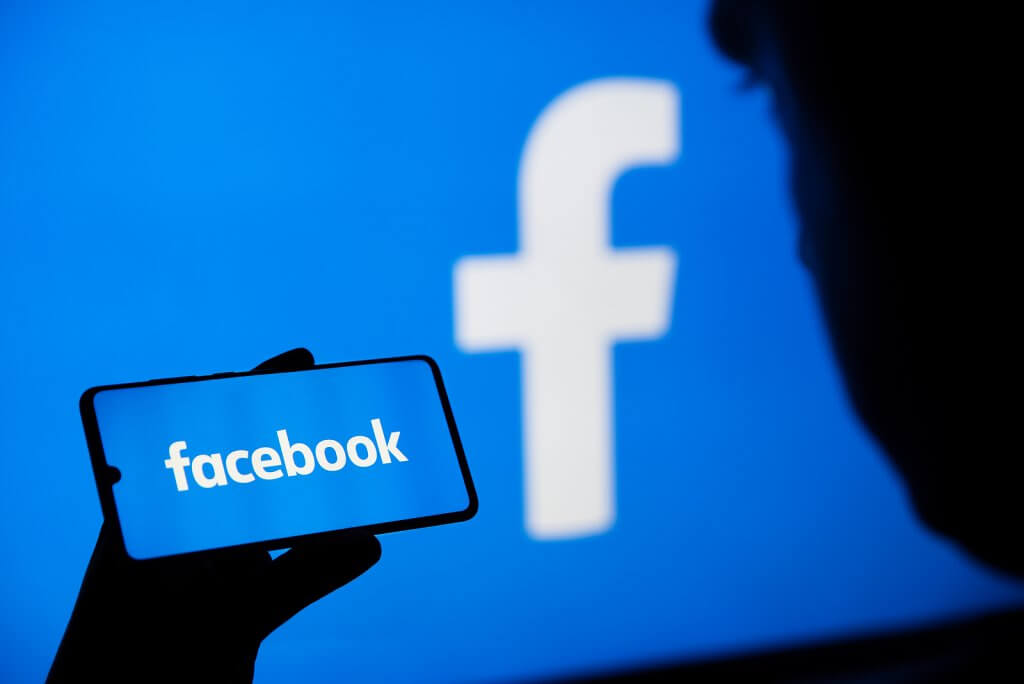 After uploading your data, Facebook will review a sample of it and identify what type of data is being used in each column. If there are any errors, you will need to fix this before your data can be used. It is a good idea to get the warnings in your data fixed as well.
Once you have done this, select 'Review'. This will show you how many rows are going to be uploaded and your estimated match rate. If you're happy with this, click on 'Start upload' to upload your data to Facebook. Most small files can be fully uploaded in a few minutes.
If you have a very large file, then it can take around fifteen minutes before your data becomes visible in Events Manager and the Facebook reporting interface.
How to report on offline conversions
One of the column sets available on Facebook is called Offline Conversions. You can have your own customised columns. So, you can have columns like Offline purchases and Offline purchase conversion value, for example.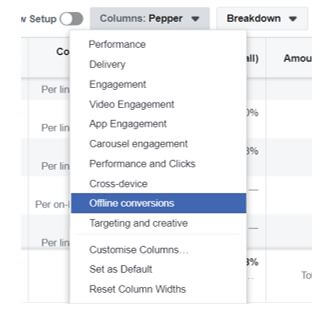 Once you have synced up everything and have all the relevant columns set up to measure offline success, you can create an audience based on your offline audience.
How to get the most out of offline conversions
Here are three tips to get the most out of your offline conversions:
Have atleast 50 offline conversions per week – otherwise it is difficult for Facebook to optimise
Retargeting – Retarget to people who have completed a certain offline conversion by Advertising other products that they may be interested in
Create lookalike audiences off of your synced data – Lookalike audiences of online converters can perform very well on Facebook. This is because Facebook creates an audience list that is similar to those who actually made a purchase on your site. Similarly, advertising to a lookalike of people who have already completed an offline conversion may lead to an increase in the number of offline conversions.
Wrapping up
In this blog, we've covered some basic steps on what are offline conversions, why Facebook advertisers should be utilising and given some tips on how to get the most out of offline conversions.
If you're an online retail business running Facebook advertising, then you may not be getting the full picture without offline conversion data. Implement offline conversion data and start seeing what impact your Facebook advertising is having on your brick and mortar stores.
---
Looking for some help with your Facebook advertising? Get in touch below and we'll call you back within 24 hours: