How To Set Up Free (Organic) Google Shopping Listings – Everything You Need To Know
Advertisers who have been working within digital marketing for a few years now may remember when Google PLAs (Product Listing Ads) were free. Froogle was created in December 2002. It was rebranded to Google Shopping Search in April 2007, and in May 2012 it changed again to Google Shopping. Before this, businesses could upload their product line up and have it appear free of charge. In 2012, Google started charging businesses to show their products on Google Shopping with a pay per click model.
On the 21st of April, Google announced that advertisers would have some free Google Shopping listing options. Google Shopping listings on the Surfaces across Google program will now include some free Google Shopping listings. This will be an excellent opportunity for smaller businesses to get some Shopping exposure on Google's search engine. Read on to find out more about Google's new free shopping ads option, how it works and how to get set up on it.
Where will the free Google Shopping listings appear?
The free Shopping ads will not appear on the main search results page on Google. This is where most people look at when looking for a product to purchase. The free product listing ads will show on the Shopping tab within Google.

Similar to Google's text ad results, the Shopping tab will have paid Shopping results at the top and bottom, while free Shopping results will appear in between paid results. Paid results will be recognisable with an 'Ad' symbol on the top left.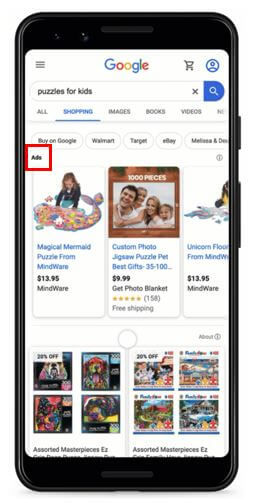 Which countries are eligible for the free Google Shopping listings?
At the moment organic (free) Google Shopping listings are only available in the US. Google will be rolling out organic Google Shopping listings to other countries, including the UK throughout 2020. Google has mentioned that it will roll out the free Shopping update globally before the end of the year.
Why is Google making some Shopping listings free?
There are many reasons why Google may have decided to offer a free Shopping listing option. Here are some of the possible reasons:
Covid-19 pandemic – Google did mention that the Covid-19 pandemic helped to push the decision to offer a free Shopping option to businesses. However, they also mentioned that the free Shopping option was something that they were planning on introducing anyway.
An increase in product feeds could result in more paid Shopping advertising – There will likely be an influx in new advertisers creating product feeds to use on Google's Shopping tab. We would expect a good chunk of advertisers who had initially planned on using Google's free Shopping ads option also to put some budget towards paid Shopping listings. This is because the volume of traffic from Google's free organic listings is likely to be quite low, and once advertisers have invested so much time into optimising their feed, they may want to test out paid Shopping listings.
Compete with Amazon – Amazon has been eating away at Google's market share for a few years now. Google's share is expected to drop from 73.1% in 2019 to 70.5% in 2021. While Amazon's share is expected to increase from 12.9% in 2019 to 15.9% in 2021. Free Shopping listings should result in more businesses appearing on Google Shopping. This means more variety and potentially the ability for Google to surface better quality results to users. Improving the quality of results will help Google strengthen its product offering and help it to compete better with Amazon.
How do I get my products to show on Google's free Shopping listings?
To start getting free Google Shopping traffic, you need to complete the below steps. I'll explain each step in more detail below:
Have a feed
Link the feed to Google Merchant Centre
Opt into Surfaces across Google
How to get set up on Google Shopping?
The first step for setting up a free Shopping listing is to create and connect a feed to Google Merchant Centre. This is done in the same way as it is done for paid Shopping listings.
Step one – Create a feed
The first step for setting up a Google Shopping campaign is to set up your product feed. The exact process to create a product feed depends on your CMS. Some make it easier to create a feed than others. Shopify, for example, has a free Shopping app that you can install. It will create a product feed for you as long as you have filled in all of the relevant data points. There are also feed solutions for businesses on WooCommerce and BigCommerce, to name a few. A feed can also be created manually using spreadsheet software.
Step two – Create a Google Merchant Centre account
Next, you will need to create a Google Merchant Centre account. Google Merchant is where your product feed is stored. If you're going to be running paid Shopping advertising, then this is also where Google Ads will look, to find your product information.
When opening a Google Merchant Centre account, you will need to add in some basic information about your website, agree to the Google Merchant Centre terms and conditions and verify that you own the website URL.
Step three – Set up a feed within Google Merchant Centre
A feed needs to be created within Google Merchant Centre. There are currently four options for creating a feed within Google Merchant Centre. Some require more manual work than others. The exact method that you choose will depend on your development capabilities and your CMS.
Upload – a file can be stored on your computer and uploaded to Google Merchant Centre when a change is made to your product line. The file needs to be smaller than 4GB and to upload it; you can either use SFTP, FTP, Google Cloud Storage or just manually upload the file yourself.
Google Sheets – You can add your feed to Google Sheets and then link up the Google Sheets spreadsheet to your Google Merchant Centre. With this method, whenever your product information changes on your website, you will need to either manually uploaded the changes to Google Sheets or find an automated way to make changes to the Google Sheets spreadsheet. Otherwise, your Google Shopping information will not be up to date and accurate.
Scheduled fetch – A much more automated method of getting the latest version of your product feed into Google Merchant Centre is to use the scheduled fetch method. This method will fetch the product feed at a scheduled time from a place on your website.
Content API – This is another automated method requiring no effort to update the product feed once it is all set up. Unlike the scheduled fetch method which updates the feed a set number of times at a time a given throughout the day, the content API method will directly update the information within Google Merchant Centre when a change occurs within your CMS. This is the preferred method as the process is entirely automated, and your information is always up to date.
What is the Surfaces across Google program?
The Surfaces across Google program allows businesses to show their Google Shopping products on 'Google Surfaces'. This includes Google's services such as Google Images, the Google Shopping tab, and Google Lens to name a few. It allows advertisers to increase their reach by showing their products on areas other than just on Google's search engine results pages.
How to set up organic Google Shopping listings?
Once your product feed is in Google Merchant Centre, you have two options to get organic product listing ads to show up on Google's search engine:
1. Structured Data Mark-up on your website – Websites that have Structured Data Mark-up will automatically have their products shown on Surfaces across Google. You can manually opt-out of this program if you want to.2.
2. Opt into the Surfaces on Google program – If you don't have structured Data Mark-up on your website, then you will need to manually opt into the Surfaces Across Google program within Google Merchant Centre.
How do I opt into the Surfaces across Google program?
A lot of retailers will already have the Surfaces across Google program activated. If you do need to switch it on, then you can do this by clicking on the 'Growth' button on the left-hand side within Google Merchant Centre, and then on 'Manage Programs'.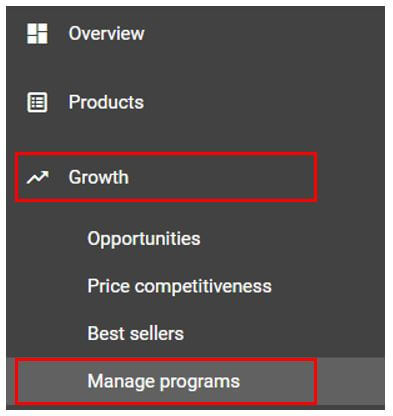 On this page, click on the 'Get Started' button within the 'Surfaces Across Google' section.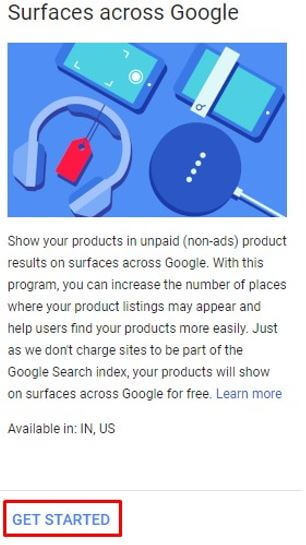 What are the feed requirements to show my products on Surface for Google?
Below are the minimum requirements for your product feed to show your products on Surfaces Across Google. However, Google will look at the quality of your feed when deciding on whether to show your products. If a competitor's feed is much higher quality than yours, then there is a good chance that Google will show your competitor's products instead of your products. Just like with organic text listings, you need to put out as many quality signals as possible to convince Google that your products are more relevant than the competitor's
id
title
link
image link
price
What are some tips on optimising my product feed?
A Google Shopping campaign is often one of the most profitable parts of an advertiser's Paid advertising strategy. Therefore, a free Shopping option is likely to be very popular, and competition to appear on relevant searches is likely to be high. You will, therefore, need to take steps to increase the chances of your products appearing instead of the competitor's products. Take a look at our seven tips to optimise a Google Shopping product feed.
Add in as many additional optional fields as possible
The Google Shopping tab (the area where organic listings can appear) benefit from 'Enhanced Listings'. Google can show a lot more information about your products as long as you fill in the optional extra fields in your product feed. Here are some of the additional optional fields that you can fill in.
Description
Availability
Condition (required for used or refurbished products)
Brand
GTIN (required for all products with a GTIN assigned by the manufacturer)
MPN (if a GTIN number does not exist)
Multipack
Is bundle
Colour (if the product is within Apparel & Accessories)
Size (if the product is within Apparel & Accessories)
age_group (if the product is within Apparel & Accessories)
Gender (if the product is within Apparel & Accessories)
Item group id
Shipping (if you need to override your shipping settings in Google Merchant Centre)
Tax (if you need to override your account tax settings in Google Merchant Centre)
Submit clean, relevant and up to date information
Free Google Shopping listings still use a product feed. This means that product feed optimisation is essential to increase your visibility in organic Shopping listings. As a starting point, your product information must be up to date with all price and description information not having any errors in them. Ensure that there are no spelling or grammar errors in your feed. Finally, make sure that it is all formatted correctly.
Wrapping up
The free Google Shopping listings is an exciting update from Google. It will no doubt help smaller businesses with a small advertising budget to compete on Google Shopping listings. But it should also help Google to compete better with Amazon. I would expect to see a flurry of new businesses submitting a feed to Google Shopping, and in the short term, early adopters will benefit from a good source of free Google Shopping traffic. However, as competition increases for free Shopping traffic, I would expect some of the advertisers who initially joined just for the free traffic to start testing a paid Shopping campaign.